Cinema program "Three Billboards outside Ebbing, Missouri" in Warszawa
No showtimes for movie "Three Billboards outside Ebbing, Missouri" for today
Choose other date from the calendar above.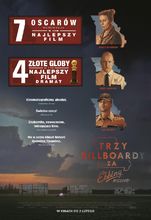 Original title:
Three Billboards outside Ebbing, Missouri
Runtime:
115 min.
Production:
USA/Wlk. Brytania , 2017
Category:
crime
/
drama
Release Date:
2 February 2018
Distribution:
Imperial Cinepix
Directed by:
Martin McDonagh
Cast:
Peter Dinklage
,
Caleb Landry Jones
,
Sam Rockwell
Awarded 7 Oscar nominations, 4 Golden Globes, 9 nominations for the British Film Academy Awards (BAFTA) and the Audience Award at the Camerimage Festival in Bydgoszcz and the screenplay at the Venice Film Festival 2017, a dark comedy drama directed by Oscar-winning Martin McDonagh ("Shoot first, then visit "). A small town in the American province. Mildred Hayes (Oscar-winning Frances McDormand) was murdered for several months, and the local police still did not get on the trail of the perpetrator. A determined woman decides to make a bold move: she hires three advertising boards on the road leading to the town and puts on them a provocative message directed to the local police chief, Sheriff William Willoughby (Oscar nominee Woody Harrelson). When the deputy sheriff enters the action, Constable Dixon (Sam Rockwell) - an unbalanced, impetuous sissy who is accused of a passion for violence - a clash between Mildred Hayes and the local law enforcement forces turns into an open war. In other roles: Abbie Cornish, Peter Dinklage, John Hawkes and Lucas Hedges.

Movie trailer: Three Billboards outside Ebbing, Missouri